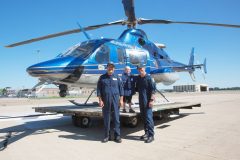 (Ashley Adamek, March 27, 2019)
Check out our "Get Involved Guide" for more stories about local organizations. Thank you to Bosco Lounge for sponsoring this series.
Rochester, MI – Every child dreams of what he or she will be when they grow up, but how many of those children actually get to experience the magic of a dream come true?  Aidyn was diagnosed with Leukemia at only 3 years old.  Throughout all of the tests, hospital gowns, and medication, Aidyn dreamed of being a police officer.