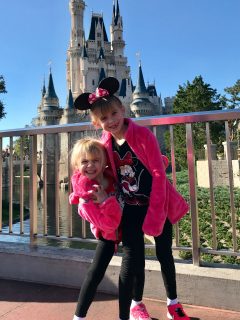 Emma was just 13 months old when her mother took her in due to some medical concerns. It was with great shock that they found out that their beautiful spunky little girl was diagnosed with Ependymoma, a form of brain cancer. In a heartbeat, their whole lives changed. Emma, her parents and big sister, Maci, live in South Lyon. Ann Arbor and Mott Children's Hospital at U of M quickly became their second home. 2 days after being diagnosed, Emma had emergency surgery and her brain tumor was able to be fully resected. It was determined that Emma's tumor was Stage 3 which was the most aggressive form of that tumor. Emma then underwent 6 months of chemotherapy and has scans every 3 months. This form of brain tumor has a very high rate of recurrence – and even with those statistics Emma has remained cancer free for nearly 4 years!
After all of her treatment was complete, and she was ready to go on her wish, Emma decided she wanted to go to Disney World and meet the princesses. Emma's wish came true just last month! Emma's mom wanted to share the details of her wish:
"We just returned from the most magical wish trip to Disney World and the experience was much more than a vacation. Words cannot express the way our family feels about the Rainbow Connection. They made this vacation so special for our whole family. From the limo that took us to and from the airport, to most amazing accommodations at Give Kids The World and red carpet treatment at Disney World. It was so special to see Emma smiling so much all week. She was back to her old carefree self that she was prior to her treatment. It was amazing to see her become so outgoing throughout the week. From the bottom of our hearts, we want to thank the Rainbow Connection for making Emma's dream come true. Not only did this very special wish make Emma feel like a princess, it also included her older sister which means so much to us. Words cannot express the gratitude we have for each of you.  Thank you for making Emma's wish come true!"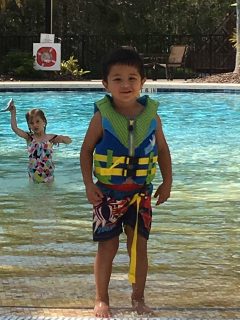 Caleb is 4 years old and lives in Ypsilanti. He is in treatment for a brain tumor and is doing very well!
Like many 4 year old boys, he loves watching cartoons, coloring and playing outside.
In October, Caleb went on his wish trip to Disney World. He stayed at Give Kids the World Village where he met Santa Clause (and celebrated Christmas in October!) Santa even agreed to wear a Star Wars hat to match Caleb.
He met all of his favorite Disney characters and especially liked hanging out with Buzz Lightyear. Caleb enjoyed all of the new attractions at The Animal Kingdom AND got to swim EVERY night at Give Kids The World!