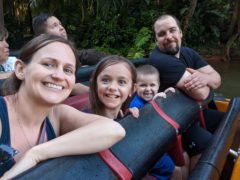 Meet 4-year old, Jake! Jake was diagnosed with Acute Myeloid Leukemia in April 2021 and has been on quite the journey since his diagnosis. Jake and his family were originally scheduled to embark on his Wish Trip in November 2022, but due to a relapse, the trip needed to be postponed. After undergoing a second bone marrow transplant using his mom's stem cell donation (she was a perfect match!), and additional chemo, Jake FINALLY got to enjoy his trip to Disney World in May 2023!
When asked what his favorite part of the trip was, Jake said, "The entire trip! I can't just pick one thing!"
Jake and his siblings absolutely loved the pool at GKTW, the ride Soarin, Guardians of the Galaxy at Epcot, meeting Ana and Elsa, and collecting sea shells at Cocoa Beach! However, getting ice cream any time they wanted was definitely at the top of list! So much so that Jake named his ice cream "The Official Jake." It was chocolate ice cream topped with nerds, whipped cream, M&M's, and sprinkles – YUM! Another highlight of Jake's wish trip is that it was a total SURPRISE!!! Jake and his sister did not know they were heading to Disney World until the night before – best surprise ever!!
Jake's mom shared that "This experience meant everything. Jake has not been able to be a normal kid or do normal kid things for over two years" and "It was our very first family vacation ever and we had the time of our lives. It was the perfect week." Jake is still in maintenance treatment, but continues to get stronger each and every day! We are so glad that Jake and his family enjoyed their trip to Disney World and have this "perfect week" to cherish for the rest of their lives!