The Magic of Give Kids the World Village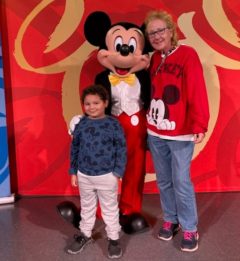 Wish Child, Ashton, was diagnosed with cancer in December 2021, at just 3 years old. After multiple rounds of chemotherapy, he completed treatment in June of 2022 and then had his port removed 6 months later! Now, a few months away from turning 5, Ashton is healthy, happy and getting stronger every day!!
This past February, Ashton got to travel to Disney World and Give Kids the World (GKTW) with his mother and grandparents and they had a BLAST! This trip was much needed and well deserved as Ashton had to stay isolated during his treatment course – thus making this trip something huge to look forward to!
Ashton especially loved Magic Kingdom and Animal Kingdom where he was able to meet Mickey Mouse! Overall, Ashton's favorite part of his trip was exploring all that GKTW has to offer! His grandmother shared: "I honestly cannot express how amazing GKTW has been. It has been awesome seeing him be a kid and out of his bubble." Ashton and his grandparents loved GKTW so much that they went back in March for an alumni visit!!
We are so happy for Ashton and his family to have experienced the pure joy and happiness that a wish can provide and we are so excited that they have these memories to reflect on forever!!