Crystal Clear Oceans for Ava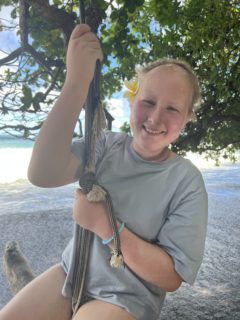 Ava is a special and brave young girl. At just 13 years old, she has endured more than most people experience in a lifetime. In May 2019, Ava was diagnosed with a rare brain tumor and has undergone endless bouts of chemo and radiation, surgeries, scans, and hospital visits ever since. However, this has not stopped Ava from wishing, hoping and enjoying life!
Ava loves art, Disney movies, soccer, basketball – she is very athletic – and her favorite color is blue. When it came to her Wish, Ava saw pictures of the crystal clear water and beautiful beaches and immediately knew she wanted to go to Maui, Hawaii. Oh what a time she had! Ava was most excited to relax on the beach and just take in the beauty of the island with her family. She was also able to partake in a boat excursion to snorkel in the open water! Ava and her family visited the Maui Ocean Center, drove the Road to Hana and explored waterfalls. It was a magical, magical trip for Ava and her family!
The best part about this trip, for them, was just being able to spend quality time together as a family without having to think about the hospital, upcoming appointments, blood draws, or surgeries. This is what matters most about a Wish Trip –families simply enjoying one another without the thought of the child's illness. #AvaStrong