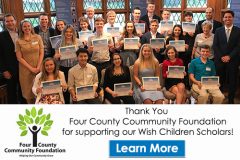 Each year, current and former Rainbow Connection wish children can apply for a $1,000 scholarship for up to four years as they pursue a post high school education.   With the support from the Four County Community Foundation, TRC was able to provide funding for one of our 2021 wish child applicants who lives in Oxford, Michigan.  This scholarship not only decreases the financial burden of education for young adults and their families, but also supports our wish children as they look to serve the community in the future.
Gibson, from Oxford, MI, was first diagnosed with Acute Lymphoblastic Leukemia (ALL) during his first semester as a freshman in high school. He ended up graduating 6th in his class, completing the IB Diploma program, and he also earned the Seal of Biliteracy for Spanish. Gibson finished up his cancer treatment weeks before graduating high school and was able to go on his wish trip that summer. TRC sent him on his dream trip to the Grand Tetons and Yellowstone! He went on private tours which helped him accomplish his biggest goal of the trip, seeing bears, bison, bighorn sheep and more! After that once in a lifetime experience, Gibson started his next journey at Kettering University where he is currently pursuing a degree in Chemical Engineering.
TRC is incredibly grateful to the Four County Community Foundation for their support of our wish children like Gibson. We look forward to continuing our Scholarship Program this year and granting scholarships to more students ready to make their impact in their community.