How Has The Rainbow Connection Impacted Me?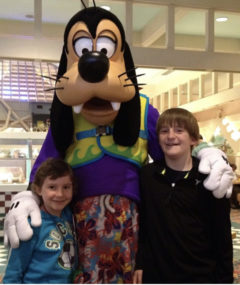 The Rainbow Connection competitive scholarship program awards $1,000 to exceptional wish children as they pursue higher education. Sydney, a 2023 TRC Scholarship Recipient, reflects on her experience since she first met with The Rainbow Connection.
This past year, I have had a chance to get re-involved with The Rainbow Connection. It is an amazing organization that has been there for me and my family during my treatments and well beyond. Many other organizations were supportive in the moment of most need, but to see an organization still care about me long after my treatments means so much.
During my treatments, Rainbow Connection was the one group that truly gave me and my family hope. My treatments began in 2010 and were hard. I missed most of first grade due to a low immune system. There were days that planning the wish trip were what kept my family (including my older brother) full of hope. We decided on a trip to Disney in February 2012. Finally – the day of the trip arrived. We were picked up at the house in a limo! My brother and I were so excited. We stayed at Give Kids the World Village. As an 8 and 11 year old…we were in heaven! Ice cream whenever we wanted and Candy Land looking buildings with so many activities. I will never forget my Gold Star going on the ceiling in the Castle of Miracles. It was so magical. It brought hope. A little piece of me will always be there. We were able to go to all the parks at Disney, Universal Studios, SeaWorld and even did indoor skydiving! The best part was that we could go on rides as many times as we wanted and got to skip the lines. The Rock-n-Rollercoaster was my favorite ride and I loved meeting all the Disney Princesses. For the first time in a long time – cancer was not the conversation, we laughed as a family with nothing to fear, we had hope. We were a normal family. Rainbow Connection granting my wish will forever provide some of our greatest memories.
This past year, I was asked to be the Guest Speaker at the 43rd Annual Dobson Open. It was 9 years after attending the 32nd Annual Dobson Open as the honorary wish child. I shared my story with the audience, got to see and meet the 4,000th Rainbow Connection wish child and experience the gracious donors that provide such amazing experiences for all of the wish children like myself. It was a wonderful night.
I was also the proud recipient of The Rainbow Connection Scholarship last year. The scholarship award breakfast was very special. Seeing and hearing the stories of the 19 other recipients was very special. All of us had different health care battles but they have made us all amazing survivors who are determined to change the world and were so appreciative of our Rainbow Connection "connection".
I am currently in my second semester of college at Hope College. I was recently officially admitted to the Nursing Program and am one step closer to my dream of becoming a Pediatric Oncology Nurse. The Rainbow Connection has helped me during the most difficult time of my life giving me and my family hope and is still here with me today helping me achieve my dreams.
We are very excited to continue to support Sydney through her education and wish her, along with our other recipients, the best of luck in their academic year!