How You Can Serve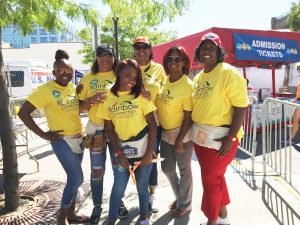 Volunteers are an essential part of The Rainbow Connection family, contributing more than 4,000 hours annually. Depending on your skills, preferences and available time, you may enjoy one of the areas identified below.
Activities and Events – Help with special events that occur in the community throughout the year, including Walk for Kids, Arts Beats and Eats and many more.
Office Support – Help with mailings, handy-work and assisting with other important office functions.
Gardening – Add your special touch to the vast garden surrounding our office.
Crafts – Help create special favors for our event guests, wrap gifts or help us with our holiday decorating
How to Become a Volunteer
Whether you have one hour a week or a few hours to give each month, we invite you to become a volunteer and share in the experience of giving. Call us at (248) 601-9474 or choose a form below to get started.
Volunteer Newsletter
Click here to see our latest Volunteer Newsletter!