Gavin's Disney World Wish Came True!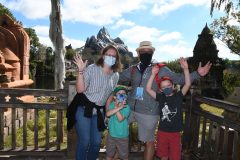 Gavin, along with 33 other wish children since January of this year, received his wish to go to Disney World! Each family stayed at Give Kids the World Village, a private resort reserved for wish families that features a spa, movie theater, mini golf, carousel, ice cream shop, and more!
For Gavin, this was the chance to celebrate life with his family after everything he had been through. As soon as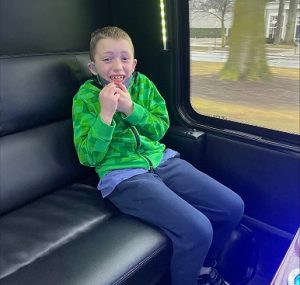 his oncologist mentioned the possibility of a wish, Gavin knew he wanted to go to Disney World. The Rainbow Connection worked to make that happen as soon as it was safe to do so. From the very start, it was an experience full of joy for Gavin and his family! When the limo picked up the family to bring them to the airport, Gavin's mom sent the following photo with Gavin saying, "I just can't stop smiling!"
Gavin and his brother ate ice cream for breakfast and dinner five days in a row –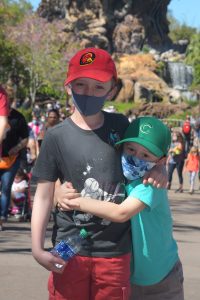 and he thought it was the coolest thing. There was never any mention of cancer, scans or pokes. He was just there, having the time of his life, being a kid and eating ice cream.
Gavin's mom says, "They say that Magic Kingdom is where dreams come true but honestly, it's organizations like The Rainbow Connection that dreams actually do come true for these kids!" ​