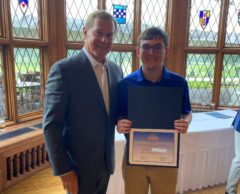 Each year, current and former Rainbow Connection wish children can apply for a $1,000 scholarship as they pursue a post high school education. With the support from the Four County Community Foundation, TRC was able to provide funding for two of our 2023 wish child applicants who live in St. Clair and Oxford, Michigan. These scholarships not only decrease the financial burden of education for young adults and their families, but also supports our wish children as they look to serve the community in the future.
Saint Clair resident, Dylan, is attending SC4, a local community college this fall. He wants to transfer to a university in a few years to pursue a degree in Medicine and become a Family Physician. His wish to receive a Polaris Ranger ATV came true in 2018!
Oxford resident, Gibson, is attending Kettering University pursuing an undergraduate degree in Chemical Engineering. He hopes to continue his education and attend medical school to be a pediatric oncologist. Gibson's wish to go to Yellowstone National Park came true in 2019!
TRC is incredibly grateful to the Four County Community Foundation for their continued support of our wish children. In 2023, The Rainbow Connection was able to award 25 scholarships to wish children across Michigan. With the help of our partners, like the Four County Community Foundation, outside donations and grants we look forward to a successful program next year, and many years to come!