Movie Marathon Raises Funds to Grant Wishes for Michigan Children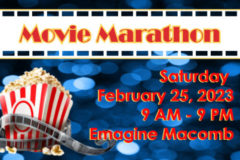 The Rainbow Connection is bringing back the Movie Marathon fundraiser on Saturday, February 25 at the beautiful Emagine Theater in Macomb. This fun-filled event will begin at 9:00am and will end at 9:00pm. All tickets purchased include 12 hours of first-run movies and unlimited pop and popcorn for just $65.00 a ticket!
Enjoy a day away from the cold weather and enjoy the latest movies being released! Bring a blanket to stay cozy and enjoy all the popcorn and pop that you can eat and drink! With a variety of movies to choose from, there is sure to be something for everyone!
Movie Marathon is perfect to attend as a day trip for the family, as a date with a loved one or for some much needed "me-time"! Most importantly, this fundraiser helps raise crucial funds to grant wishes for Michigan children with life threatening medical conditions. Tickets and sponsorships can be purchased by going to rainbowconnection.org or calling 248-601-9474.
Since 1985, The Rainbow Connection has been granting wishes for Michigan children with life threatening illnesses and providing support services to wish families in need. Although a lot has changed over the 38 years since the organization began, the magic of a wish continues to provide hope and joy to Michigan children. Over 4,000 wishes have been granted by The Rainbow Connection, which include wishes to Disney World, shopping sprees and celebrity meet and greets.
To learn more about the Movie Marathon and purchase tickets or sponsorships, click here!