The Rainbow Connection Celebrations Wish #4,000!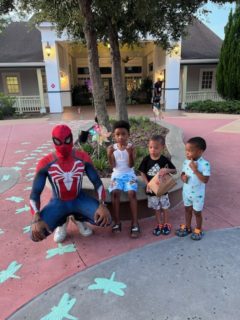 The Rainbow Connection is extremely thrilled to be announcing that this year, we will be granting Wish #4,000. This is such an incredible and huge milestone and The Rainbow Connection team could not be happier! With such an incredible milestone, we want to take a walk down memory lane to acknowledge the thousands of Wishes and children that have allowed us to get to this place.
There have been many milestones and many special Wishes, but we selected some of our favorites to share and reflect on as we approach Wish #4,000.
1985: Is the year The Rainbow Connection became a non-profit organization and the year our first ever Wish was granted. Wish #1 allowed John to meet Muhammed Ali and shadowbox bedside together.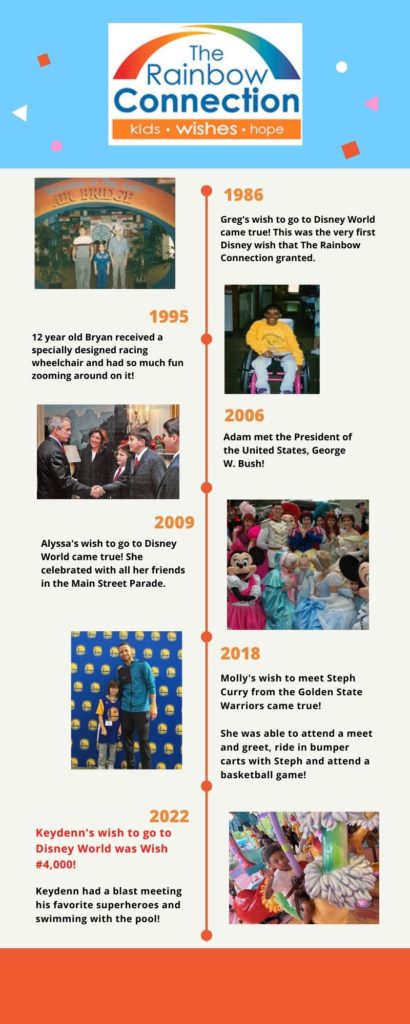 2022: Keydenn receives Wish #4,000. His journey began when his kidney disease was found in an ultrasound while his mother was only five months pregnant with him. Keydenn was placed on the kidney transplant waiting list when he was four years old. Thankfully, Keydenn's mother was a perfect match and gave one of her kidneys to him. Their surgeries went well and there were little complications. Now, over a year later, Keydenn is doing GREAT!! Despite being on multiple medications, he continues to grow, gain weight, and is a very happy kid who just recently finished kindergarten!!
Keydenn will eventually need another kidney transplant but his Wish Trip to Disney World gave him something to look forward to and a chance to make special memories with his family.

Over the past 37 years, TRC has had the privilege of meeting so many brave children. This mission is possible because of generous donors, volunteers, community partners and Board Members. There have been many changes since the organization began but providing hope and joy to Michigan children has remained constant. TRC looks forward to celebrating Wish #4,000 and every opportunity to make a wish come true.