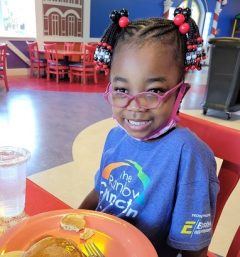 The Rainbow Connection (TRC) is excited to announce that we have been awarded both the 2021 Platinum Seal of Transparency by GuideStar and, for the ninth consecutive year, the Four Star rating from Charity Navigator. This is the highest level of recognition offered by both GuideStar and Charity Navigator.
Receiving four out-of-four Stars for nine straight years is an honor only 4% of charities evaluated by Charity Navigator receive. Both of these ratings represent The Rainbow Connection's commitment to fiscal responsibility in stewarding the donations provided to us in fulfilling our mission of providing wishes to Michigan children with life threatening illnesses.  Of each dollar spent in 2020, over 86 cents was devoted to TRC's mission.
The Rainbow Connection is referring to this year as the year of HOPE! With travel pretty much suspended last year due to the pandemic, TRC was limited to the types of wishes that could be granted. However, we are off to an amazing start in 2021, already granting wishes to the most requested place – Disney World! Thanks to safety protocols at Disney theme parks and their partners, TRC is once again giving hope and providing opportunities to create priceless memories to so many children in need.
Last month, Kim'Miyah, along with 16 other wish children, returned from her magical wish trip to Disney World! Each family stayed at Give Kids the World, a private village reserved for wish families that features a spa, Movie Theater, mini golf, carousel, ice cream shop, and more!
Kim'Miyah's mom shares, "This trip meant so much to us, we had an amazing time. It was like a dream come true for Kim'Miyah, her sister and I. When Kim'Miyah saw Minnie in the parade, her face brightened up and they were blowing kisses to one another. It was such a priceless moment!"
Click the following links to learn more about TRC's commitment to fiscal responsibility and transparency on both their GuideStar profile page and the Charity Navigator profile page.