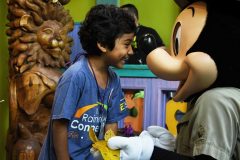 The Rainbow Connection (TRC) has been granting wishes for Michigan children with life threatening medical conditions since 1985. Although a lot has changed over the 35 years since the organization began, the magic of a wish continues to provide hope and joy to wish children.
Check out these 9 facts you might not know about TRC and the magic of making a dream come true.
It's more than a wish. In addition to granting wishes, TRC provides an umbrella of support services for all families served. When a child becomes seriously ill, life is suddenly turned upside down for all family members. The Special Response and Enhancement Program provide families with support and fun activities as they continue to experience hardships. College Scholarships are available for wish kids who go to college too!
We grant wishes throughout the state of Michigan. TRC provides services to children throughout the 83 counties in the state of Michigan. In 2020, 80% of wishes were granted for Wayne, Oakland and Macomb County children, but our Wish Staff travel to Traverse City, Marquette and wherever they are needed for our wish children.
The Rainbow Connection does not have a waiting list. Our Wish Coordinators work hard to maintain the quality of care and service while we maintain our no wait policy. When the child is ready for their wish, TRC is ready to make it happen.
Wish Kids receive surprise Happy Packs in the mail! Whether a child is going through a tough time in treatment, or just needs a pick me up, TRC sends a Happy Pack in the mail to cheer the child up. The surprise packages include coloring books, nail polish, card games and more!
The first wish was to meet Muhammed Ali on July 24th, 1985. 16 year old John Bowden wished to meet heavy weight champion Muhammed Ali. He came to visit John at Children's Hospital in Detroit and while the visit was set up specifically to meet John, Ali stayed to visit many sick kids throughout the hospital. The gesture by Ali brought joy to John during a difficult time and the impact remains with his family to this day.
Wish Kids love to give back to other Wish Kids. Many of our wish kids raise funds to support other wish families. Ryan's wish was granted in 2014 and he has been connected with TRC ever since. In 2016, Ryan started Leto Strong, an annual golf outing that has since raised over $25,000 to grant more wishes!
We grant all kinds of wishes! Since 1985, over 3,750 wishes have been granted to Michigan children. In 2019, we granted 68 trips to Disney World, 28 shopping sprees and 2 meet and greets with celebrities!
When a wish is received, the wish child and their family are joining The Rainbow Connection Family for life! With our Holiday Party, Summer Picnic and year round Enhancements, we love to visit with wish families throughout the year.
Hundreds of TRC supporters and volunteers make our mission possible. 2020 has been a tough year, especially for our families who are caring for a child with a life-threatening illness. When the pandemic hit, we knew that our families needed support now more than ever. Because of the incredible connections that we have made with new and old community partners, donors, supporters, and volunteers, we have truly been able to support our families in a big way. In 2020, 856 wish family members received support through our Special Response Program. In 2021, we anticipate granting more wishes than usual in the year ahead as we work hard to keep true to our promise: no child in need of a wish will ever be turned away or made to wait.
Follow us on Facebook for even more wish stories at www.facebook.com/rainbowconnectionmichigan. For more information on events and volunteer opportunities visit www.rainbowconnection.org