Stagecrafters Musical Raises Funds to Grant Wishes to Michigan Children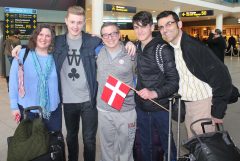 In 2016, Zack's wish to go to Denmark with his family was granted. He chose this wish because his family recently had an exchange student from Denmark live with them and they became very close. This trip gave them a chance to see each other again and spend quality family time together.
Six years later, Zack was performing in the musical Cinderella at Stagecrafters in Royal Oak. For each musical, Stagecrafters supports a different charity and Zack recommended The Rainbow Connection (TRC). Volunteers sold merchandise, took donations and answered questions about TRC at each performance. A portion of the proceeds from merchandise sales were donated to support our mission of granting wishes to Michigan children with life threatening medical conditions. One night, after the final curtain call, Zack gave a speech about what his wish meant to him.
Thanks to Zack, Stagecrafters and the generous people attending their shows, TRC received a donation of over $2,500! The significance of this donation goes beyond the dollar amount. A core value of The Rainbow Connection is staying connected to wish children before, during and after their wish. TRC hosts an annual Picnic and Holiday Party for wish families. The Special Response program offers financial support to families in need and the Scholarship Program provides $1,000 scholarships to wish children pursuing secondary education. When Zack recommended TRC for a donation, it was reminder of the importance of staying connected with our wish families far beyond their wish. We are so grateful to Zack and the Stagecrafters community for their support!