The Rainbow Connection is Bringing Holiday Cheer to Michigan Families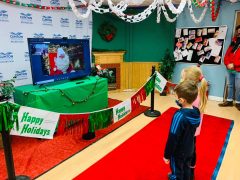 The Rainbow Connection's (TRC) mission is built on the foundation of connections made with individuals and organizations that remind our wish families that they are not alone. TRC supports wish families before, during and after their wish, and this value has been of the utmost importance this year and throughout the holiday season.
Wish Families have had the opportunity to attend many drive by or virtual Santa events. The Clinton Township Parks and Rec hosted an experience where wish families walked through a holiday themed hallway leading to a video chat with Santa himself! The Pennanen Family Farm is hosting a letters to Santa experience. This will be a magical night where wish families can drive through the decorated farm and wave to Santa. They will be able to drop off a letter for Santa and even drive by the reindeer!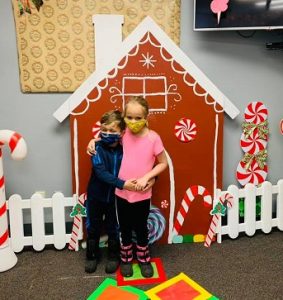 Maceri Produce, a Wholesale Produce Distributor, is donating 100 boxes full of produce, dairy and protein for our wish families. Detroit Food Rescue is another organization that is helping provide meals to wish families. For six weeks, they have coordinated with restaurant Saffron De Twah to provide amazing meals through their community kitchen.
Another highlight of December was the Annual TRC Wish Family Holiday Party! This year, the event was a drive-thru where families received a meal from Crispelli's, cookies and milk, crafts and gifts! Maria's mom shares the importance of this experience to her family,
"I just wanted to take a moment to tell you thank you for this afternoon. A year ago today, Maria and I were inpatient at Mott and she was very sick because of the chemo. A year ago today, most of Maria's hair had fallen out and we made the decision to shave the remaining patches off since it was causing her to be very itchy and uncomfortable. I never thought a year later Maria and her siblings would be healthy, happy and enjoying Christmas activities such as the one held today. Thank you for bringing smiles to their faces and making my heart happy! Maria has been squeezing her teddy bear so tight since we left!"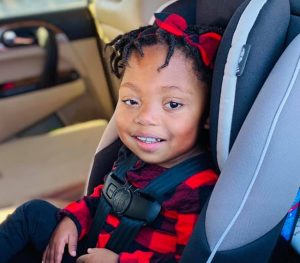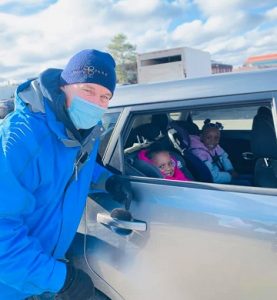 Finally, many generous donors have chosen to adopt wish families for the holiday season. 100 of our wish families will be receiving gifts and toys this year! As we all navigate these uncertain times, just knowing that TRC has the resources through donors and community partners to assist wish families in need brings an overwhelming feeling of relief. We are tremendously grateful to those who have worked with us to provide new ways of supporting Michigan families.
Visit www.rainbowconnection.org/donate to support these programs for our wish families and help grant wishes to Michigan children with life threatening medical conditions.