World Gratitude Day – Thank You!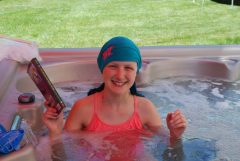 Simply put, without our donors, The Rainbow Connection (TRC) would not be what it is today. Every act of kindness, every service and every dollar sets off its own series of unforeseen ripples. TRC is grateful to be supported by so many passionate, cause-driven donors and volunteers committed to granting wishes for Michigan children with life threatening medical conditions.
Our supporters give hope to wish children like Riley, who wished for a hot tub. On World Gratitude Day, TRC is sharing her story as a representation of the impact our donors and volunteers have on our mission.
Her dad shares the impact of Riley's wish, "When we first told Riley she was eligible for a gift from The Rainbow Connection, she didn't think it was real. Frankly, neither did I. It was really unique to watch a twelve year old little girl logically work through the decision process. She finally decided she wanted a hot tub. We asked her why she did not want a trip and she said, "A trip is great but you have to wait a long time for it and when it's over it is gone. A hot tub lasts forever and everyone can enjoy it.
I remember the day we told Riley her wish was granted by TRC. She was in the middle of a rough chemotherapy treatment. She was physically drained and her spirits were low. When we told Riley her wish was granted, her entire face lit up and the color came back to her face. She was in disbelief and as we watched her fall asleep her smile stayed right on her beautiful face.
Riley spent, and this is not an exaggeration, the entire weekend in the hot tub! We call it "Riley's Oasis" and she was so excited and happy. At one point, she had twenty Barbie dolls swimming with her in the hot tub.
We are back in the hospital this week for more chemotherapy and yes, it is rough. But the fact that she has "Riley's Oasis" when she gets home is one of the biggest things keeping her going."
These wonderful and unforgettable experiences like Riley's would not be possible if not for the kind hearted donors and volunteers that make the magic of granting wishes possible. Thank YOU for your commitment to our wish children and making dreams come true – we couldn't do this without you!