The Rainbow Connection receives top awards from GuideStar and Charity Navigator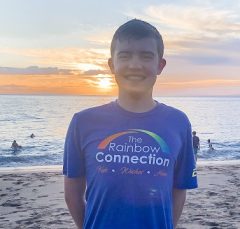 The Rainbow Connection (TRC) is excited to announce that we have been awarded both the 2020 Platinum Seal of Transparency by GuideStar and, for the eighth consecutive year, the Four Star rating from Charity Navigator. This is the highest level of recognition offered by both GuideStar and Charity Navigator.
Receiving four out-of-four Stars for eight straight years is an honor only 5% of charities evaluated by Charity Navigator receive. Both of these ratings represent The Rainbow Connection's commitment to fiscal responsibility in stewarding the donations provided to us in fulfilling our mission of providing wishes to Michigan children with life threatening illnesses.  Of each dollar spent in 2019, over 86 cents was devoted to TRC's mission.
Wishes often come at the end of long journeys full of treatment plans and hospital stays. Wishes are milestone markers and opportunities to reflect on victories. The opportunity to receive a wish gives hope to children like Michael, who wished for a beach vacation with his family. Michael's mom says, "Honestly, Michael's journey with a tumor has been difficult. He had been through so many unpleasant experiences. The hope of his future wish trip was something he held onto and thought about during challenging moments. This vacation exceeded all of our expectations! Sharing this trip with our family is something we can carry with us for the rest of our lives."
Click the following links to learn more about TRC's commitment to fiscal responsibility and transparency on both their GuideStar profile page and the Charity Navigator profile page.