Guernsey Farms Dairy and The Rainbow Connection are Granting Wishes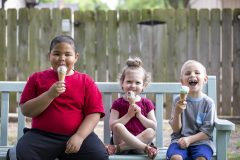 [Rochester, Michigan, June 26, 2019] – The Rainbow Connection announces a new partnership with Guernsey Farms Dairy.  As part of the partnership, The Rainbow Connection logo will appear on all Guernsey products, including their world-famous chocolate milk and 31 flavors of ice cream.  Messaging alongside the logo will encourage customers to learn more about the Michigan children's charity.  Together, these two companies have over 100 years of experience serving Michigan families.
Executive Director, George Miller shares, "The Rainbow Connection is honored to be chosen as the charity of choice by the Guernsey family. This is an outstanding opportunity for us to spread our mission across the state and we are privileged to be attached to such an amazing operation!"
Since 1940, Families across Michigan have enjoyed Guernsey's tasty dairy products, from their award-winning milk to their distinctive ice cream.
Guersey Farms Dairy was built on the foundation of quality and commitment to creating excellent products, but the founders also believed in actively participating with the local community. One way Guernsey maintains that involvement is through this partnership with the Rainbow Connection.
###
The Rainbow Connection is a 501(c)3 Michigan non-profit dedicated to fulfilling the wishes of children battling life-threatening medical conditions.  Since 1985, The Rainbow Connection has granted over 3500 wishes to brave children right here in our community.  Granting wishes is a way of providing families the opportunity to share a positive experience together, making lasting memories along the way and providing hope for a brighter future.  Our Enhancement and Special Response programs make us 'more than a wish' wrapping the family in an umbrella of care because we know families in crises need specialized support.