February Kicks Off with Seven Wishes!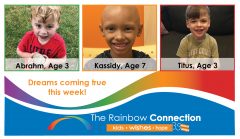 The Rainbow Connection (TRC) is gearing up for a BIG week of wishes! This week, seven wishes are coming true! Five wish families are traveling to Disney World and two wish children are receiving shopping spree experiences. Today, we're sharing stories from three of these wish children who will all experience their wishes this week!
Abrahm wakes up each morning and asks his mom "Is it time to go on vacation? To fly in the sky? To go to the beach?" He is so excited and his mom loves watching him and his big brother being "absolutely silly giddy" over this incredible experience. They have never been on a family trip and are really looking forward to this time together as a family. Later in February, Abrahm has cardiac testing and procedures so his wish will give him something positive to remember and time to play like a little kid.
Kassidy has a love of cheerleading and she is slowly regaining her strength to cheer with her team again. She is an only child and has a heart of gold. Even though she is battling cancer, Kassidy is always looking out for others. Her wish trip to Disney World is a total surprise! It has always been her dream to go to Disney World but until the limo pulls up in her driveway she will have no idea what is in store for her this week – but we know it will be magical!
Titus first met with TRC in September of 2019. His Disney World wish trip will be extra special because he is celebrating his fourth birthday! Titus is most looking forward to meeting all the Disney characters with his three siblings. His mom says, "I'm just in awe of everything we've experienced in the short time we've been a part of the TRC family! I cannot believe the amount of love and encouragement the whole team blesses us with!"
We are wishing magical adventures to all of our wish families travelling or experiencing their wishes this week! If you would like to learn more about our mission, click here.