Pryce wished for a Lego Shopping Spree!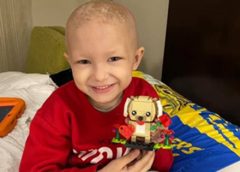 In August 2018, at a mere 3 years old, Wish Child Pryce was diagnosed with Neuroblastoma. He is the youngest of 5 children, and this hit their family hard. The cancer initiated with a tumor on his right kidney and had spread to his bones and bone marrow. Extensive treatment began immediately for sweet Pryce. In early April of 2019, Pryce received a stem cell transplant as part of his plan. He also received Immunotherapy and radiation.
This past January, the family received news that Pryce's cancer had spread and he had emergency surgery to remove a brain tumor. Following the surgery he received proton radiation. Treatment locally had run its course, and there were some options available – but Pryce and his parents would have to travel to New York in order to receive these cutting edge treatment options. Just last week Pryce and his parents received the green light that it was safe enough to travel to New York for Pryce! Prior to departing, Pryce decided on a SHOPPING SPREE as his wish so he could purchase Legos kits to take with him on his journey. The family car was filled with suitcases and LEGOS as they headed out on this most exciting journey.
We are wishing Pryce the best while he is being brave in New York!