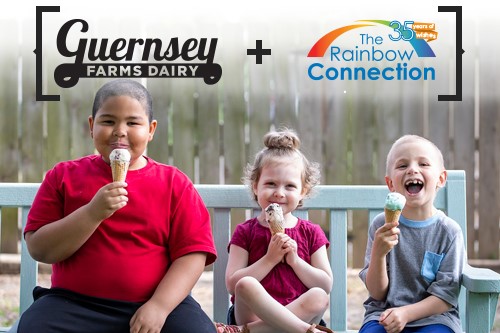 In 2019, The Rainbow Connection and Guernsey Farms Dairy formed a partnership. Together, these two companies have over 100 years of experience serving Michigan families in wholesome, positive ways.
As part of the partnership, The Rainbow Connection logo will appear on all Guernsey products, including their world-famous chocolate milk and 31 flavors of ice cream.  In addition a portion of ALL merchandise sales from their website is donated to The Rainbow Connection! Click the button below to check out their styles (and even ice cream toppings)!
Guernsey Farms Dairy also partners with TRC at fundraising events and Wish family events throughout the year by providing their delicious dairy products.
Executive Director, George Miller shares, "The Rainbow Connection is honored to partner with Guernsey Farms. This is an outstanding opportunity for us to spread our mission across the state and provide wishes to Michigan children in need. We feel privileged to be working alongside such an amazing Michigan company!"
Joe Kinville of Guernsey Farms adds, "Watching a child and their family, who are going through something that no one should ever have to go through, eat an ice cream cone or drink a chocolate milk and seeing the smile it brings to their face is why we do what we do. It is only natural that we would partner with a Michigan charity whose focus in on providing joy and hope to families in need."
Since 1940, families across Michigan have enjoyed Guernsey's tasty dairy products, from their award-winning milk to their distinctive ice cream.  Guernsey Farms Dairy was built on the foundation of quality and commitment to creating excellent products and the idea that we exist to serve others. Guernsey maintains that involvement is through this partnership with The Rainbow Connection.