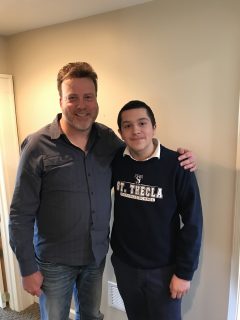 Food and history describe Wish Child Jay best. These are a few of this favorite things! After he was diagnosed with Hodgkin's lymphoma last August, his whole world changed. Having a WISH to dream about seemed "out of this world" to Jay. But it didn't take long for him to come up with his perfect wish…visiting NYC to see Hamilton and eating dinner at a Michelin rated restaurant. Included with dinner will be a special time set aside with the chef as well as a personal tour of the fantastic kitchen. Detailed plans for his trip are already underway and we cannot wait for him to see all of the surprises that await him!
At 14 years old, Jay has many interests aside from food & history. These include his taste for Milky Way bars and steak. He enjoys watching Master Chef to gain a few pointers. Jay is an avid Michigan State fan and his favorite super hero is The Flash. In his spare time Jay also enjoys karate, cooking, playing video games and working on his computer.
Jay and his family are looking forward to this once in a lifetime wish trip to New York. Just having something to dream about and focus on during his toughest days at the hospital was such a relief to his mother. Jay is counting down the days until he is wheels up – New York bound!