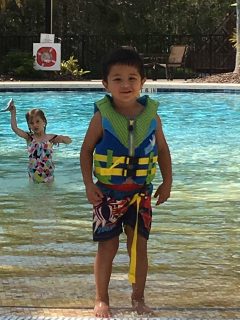 Caleb is 4 years old and lives in Ypsilanti. He is in treatment for a brain tumor and is doing very well!
Like many 4 year old boys, he loves watching cartoons, coloring and playing outside.
In October, Caleb went on his wish trip to Disney World. He stayed at Give Kids the World Village where he met Santa Clause (and celebrated Christmas in October!) Santa even agreed to wear a Star Wars hat to match Caleb.
He met all of his favorite Disney characters and especially liked hanging out with Buzz Lightyear. Caleb enjoyed all of the new attractions at The Animal Kingdom AND got to swim EVERY night at Give Kids The World!