A once in a lifetime fishing trip for Nick!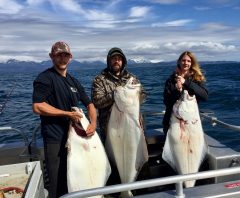 When we first met Nick in June of 2017, he was in the middle of his treatment protocol for cancer.  He shared that it would be his dream come true to go on a fishing trip in Alaska with his family!
Nick's focus never wavered and exactly one year later he and his parents were bound for Anchorage!  The family drove two hours south to Seward where his fishing excursion began. They were amazed by Alaska's striking scenery and even enjoyed some hiking along the way.
A private charter fishing company hosted Nick and his family as they enjoyed VIP treatment aboard the boat.  He experienced two days of superior fishing and traveled exclusively with the crew as they fished for salmon and halibut.  As you can see from Nick's picture, they made quite a catch!
"A once in a lifetime experience" is how mom Tracey described it.  They took home cherished family memories AND 165 pounds of fish!  Nick and his family had the time of their lives! His trip was truly a dream come true!