The Rainbow Connection Awarded Grant to Support Michigan Families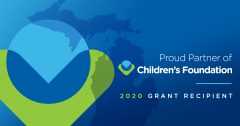 The Rainbow Connection is excited to announce that our Special Response program has been awarded funding from the Children's Foundation. Their foundation supports pediatric research, education, community benefit programs, and other initiatives that improve the health of children in Michigan.
Through the funds from the Children's Foundation, we will be able to provide immediate relief in the area of groceries, gas, car repairs, rent/mortgage, utilities and other needs to approximately 75-150 wish families in need. Our Special Response Program is a cornerstone to our unique wish program by providing support to our families before, during and after their wish. With the current economic uncertainty in the world, we have been made aware of the increased hardships many of our families are facing.
We are incredibly grateful to the Children's Foundation for their tremendous support of our wish children across the state of Michigan! Thank you!
To learn more about our Special Response Program, click here.