Thank You Impact 100 Oakland County and Kroger!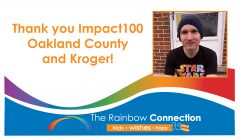 As we all navigate these uncertain times, just knowing that The Rainbow Connection has the resources to assist Wish Families in need brings an overwhelming feeling of relief. Thankfully, we are using the Impact 100 Oakland County (OC) grant money to support our TRC wish families in Oakland County who need it the most.   We have been purchasing Kroger gift cards for these families to help get them through these tough and uncertain times.
This did not go unnoticed by Kroger.  Our good friend at Kroger, Rachel Hurst, immediately wanted to help.  She has matched $5K from Impact 100 Oakland County with $5,000 in additional gift cards from the Kroger's Foundation!  Impact 100 Oakland County not only supports our wish families in these times of need, their money has sparked others to match their funds to help even more Oakland County families in need.  Thank you Impact 100 Oakland County and Kroger!
"𝘞𝘦 𝘳𝘦𝘤𝘦𝘪𝘷𝘦𝘥 𝘵𝘩𝘦 𝘒𝘳𝘰𝘨𝘦𝘳 𝘎𝘪𝘧𝘵 𝘊𝘢𝘳𝘥𝘴 𝘢𝘯𝘥 𝘢𝘳𝘦 𝘴𝘰 𝘨𝘳𝘢𝘵𝘦𝘧𝘶𝘭! 𝘛𝘩𝘦 𝘨𝘦𝘯𝘦𝘳𝘰𝘴𝘪𝘵𝘺 𝘰𝘧 Impact100 Oakland County 𝘪𝘴 𝘢𝘮𝘢𝘻𝘪𝘯𝘨 𝘢𝘯𝘥 𝘵𝘩𝘦 𝘧𝘢𝘤𝘵 𝘵𝘩𝘢𝘵 𝘰𝘶𝘳 𝘧𝘢𝘮𝘪𝘭𝘺 𝘸𝘢𝘴 𝘤𝘩𝘰𝘴𝘦𝘯 𝘪𝘴 𝘢 𝘣𝘭𝘦𝘴𝘴𝘪𝘯𝘨, 𝘢𝘯𝘥 𝘲𝘶𝘪𝘵𝘦 𝘩𝘰𝘯𝘦𝘴𝘵𝘭𝘺 𝘢 𝘭𝘪𝘧𝘦 𝘴𝘢𝘷𝘦𝘳, 𝘦𝘴𝘱𝘦𝘤𝘪𝘢𝘭𝘭𝘺 𝘨𝘪𝘷𝘦𝘯 𝘵𝘩𝘦 𝘤𝘶𝘳𝘳𝘦𝘯𝘵 𝘤𝘭𝘪𝘮𝘢𝘵𝘦 𝘰𝘧 𝘵𝘩𝘦 𝘸𝘰𝘳𝘭𝘥 𝘢𝘯𝘥 𝘯𝘦𝘦𝘥𝘪𝘯𝘨 𝘵𝘰 𝘣𝘦 𝘲𝘶𝘢𝘳𝘢𝘯𝘵𝘪𝘯𝘦𝘥. 𝘗𝘭𝘦𝘢𝘴𝘦 𝘱𝘢𝘴𝘴 𝘰𝘶𝘳 𝘴𝘪𝘯𝘤𝘦𝘳𝘦𝘴𝘵 𝘵𝘩𝘢𝘯𝘬𝘴 𝘵𝘰 𝘐𝘮𝘱𝘢𝘤𝘵100 𝘖𝘢𝘬𝘭𝘢𝘯𝘥 𝘊𝘰𝘶𝘯𝘵𝘺! 𝘉𝘭𝘦𝘴𝘴𝘪𝘯𝘨𝘴 𝘵𝘰 𝘢𝘭𝘭!" -Julian and Family