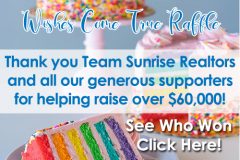 Team Sunrise Real Estate Services sponsored and helped raise over $60,000 to celebrate The Rainbow Connection's 35th Birthday! When our Birthday Party had to be cancelled because of COVID-19 restrictions, Team Sunrise jumped in to host a raffle that honored 35 years of granting wishes to Michigan children with life-threatening illnesses. They also generously agreed to match donations towards the raffle – up to $7,500!
For the past two months, Team Sunrise, Rainbow Connection Volunteers, Staff and Board Members have been selling tickets to donors all over the state of Michigan. On Friday, September 11th, the winners were announced at the TRC Office. Congratulations to all six winners!
$50 Raffle Prize
Chris Stomack
Gary Heitman
$20 Raffle Prize
Ducharme
Mary Modetz
Karen Hertz
David Franz
In addition to the raffle, Team Sunrise has helped TRC in numerous other ways. They have sponsored wishes and even make a donation for each house sold at their agency – Team Sunrise Real Estate Services! Most recently, they helped sponsor Addison's wish to go to Disney World. At just 12 years old, Addison was diagnosed with an adult form of ovarian cancer.  A very rare case, Addison and her family sought treatment at the University of Michigan Hospital. Addison went through surgeries and a variety of chemo treatments while battling the cancer. Addison's home town of Ubly, Michigan rallied around her and her family.  For one week Addison and her family were able to spend quality time with one another to create long lasting memories.
Thank you Team Sunrise for your continued dedication to our wish children and your commitment to sharing our mission throughout the state of Michigan!