Shelton Buick GMC and the Shelton family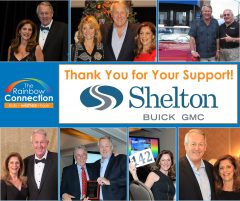 Shelton Buick GMC has generously donated and sponsored many of our fundraising events over the years including Dream Makers Ball, the Dobson Golf Outing, and Celebration of Dreams. The Shelton family has also generously donated their time and talents, actively volunteering with us. Mr. Shelton has served on our Board of Directors for 15 years, and Mrs. Shelton currently serves on our Auction committee, and was named our 2019 Volunteer of the Year.
They give so much to the community and to our wish families, and we cannot thank them enough for their love and dedication to our mission. Thank you Shelton Buick GMC and the Shelton family for all you do to grant wishes!