Meet Ryan Giacolone, President of The Rainbow Connection's Executive Board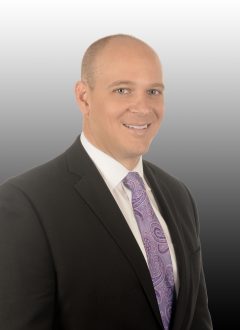 Years ago, a colleague brought Ryan Giacolone to the Dobson Open golf outing for the first time. Soon after he learned about how The Rainbow Connection helped Michigan children, Ryan knew he had found a mission he believed in. A father of four himself, Ryan understands the importance of family.
"Children are my passion.  My kids are my passion. So I found an organization that serves other children and it really struck home for me.  One of the most important things when you serve is that you've got to find a mission you believe in, or else you're never going to be committed to it," Ryan said.
In addition to volunteering for many years, Ryan has served on the Finance committee, as Vice President, and currently serves as President of the Executive Board.
Ryan's enduring passion for football inspired him to sponsor a wish for another dedicated fan. Austin's wish was to come face-to-face with the Seattle Seahawks players, and Ryan excitedly stepped up to sponsor the trip. After Austin returned, Ryan received a photo of Austin in the locker room, beaming with pride, standing shoulder-to-shoulder with NFL star, Russell Wilson. This photo serves as a reminder to Ryan that he helped to put a smile on Austin's face, and the faces of his family members, during a very challenging time.
"When a child is fighting a life-threatening illness, the struggle extends far beyond the child to the family, siblings, and parents," Ryan said.  He feels that the Wish experience is truly a whole-family experience.  "That's what really means a lot to me.  It's not just that child [who experiences delight, but rather] the whole family experiences relief for a period of time, and they just get to enjoy some happiness."