I Wished, I Hoped, I Accomplished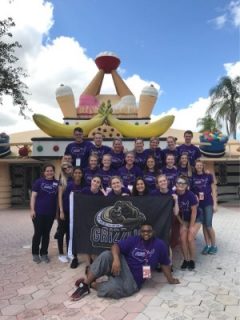 22 year old Daryl is a student of Oakland University. His goal is to give back just like his community gave to him during his time of need.
At age eight, I was diagnosed with a brain tumor the size of a golf ball and was immediately admitted to Children's Hospital of Michigan. I quickly learned that a family filled with fear is nothing compared to a family filled with hope.
In the midst of my diagnosis, I received a wish that would bring happiness to me and my family during our time of need. My wish was to go to Disney World and have fun like everyone else. Thanks to Rainbow Connection my wish became a reality. In 2003, I remember being out of the hospital and only having to go back for chemotherapy once a week. One week was different as instead of going to chemo I was going to Disney! A limousine pulled up in front of my house and picked up my family and I to take us to the airport. Once we arrived there was a driver with a sign that said, "Give Kids the World Village Welcomes Daryl".
I am now a senior at Oakland University (OU) and have always hoped to give back in the best way possible. I'm now a volunteer with The Rainbow Connection and for the last 3 years I have traveled to Florida during spring break to volunteer at Give Kids The World (GKTW). Last February, I lead a group of fifteen students from OU on a trip to GKTW for a week-long volunteer trip. I am looking forward to being a site leader again this February!
Having cancer helped me find my purpose to give back to those around me. A goal of mine is to have my own non-profit that can help families in need and show them that it will be okay. Two years of leading students to GKTW is just the beginning and I plan to make this a tradition. Graduating from Oakland University in April, I'm looking forward to what my next chapter in life has in store.