Walk for Kids – Brooksie Way
Event Navigation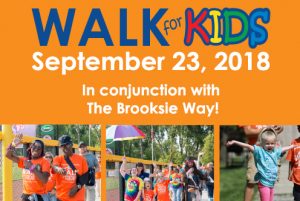 2018 Walk for Kids
Date: Sunday, September 23rd – 8:00 am
Event Location: Meadow Brooks Music Festival Grounds on East Campus of  Oakland University in conjunction with The Brooksie Way
Registration: $5.00 per walker (plus $1.75 processing fee per online registered walker)
T-Shirt Information: Walkers 13 years and younger will receive a Walk for Kids t-shirt.
All other participants are asked to raise a minimum of $50 to receive Walk t-shirt.
Raise $50 or more to qualify for additional exciting prizes!
Gates Open : 6:30 am
Check In Begins: 6:45 am
Program Starts 7:45
Walk Starts: 8:10 am
Activities: Live Band-Bounce House-Rock Climbing Wall
Map & Directions: Click Here
How can you help?
Start a fundraising page, start or join a team
Ask your friends and family to join you
Become a sponsor download sponsor form HERE
NEW IN SEPTEMBER-Honor of loved one! Anyone who donates $50 or more to The Rainbow Connection Walk for Kids during the month of September will have the opportunity to create personalized sign for the "Walk Warrior" of their choice.  The signs will show a beautiful photo and name of the honoree, as well as a message from the donor (60 character limit).  These signs will be prominently displayed at our Walk for Kids and then will be available for the donor to take home following the event.
OR
If you or someone in your party would like to run any of the Brooksie Way races register directly on their site HERE. Use coupon code RAINBOW15 to receive 15% off any race OR Training program! Be sure to select The Rainbow Connection as your charity and part of your entrance fee will be donated back to The Rainbow Connection!