Movie Marathon
March 10, 2018 @ 10:00 am

-

10:00 pm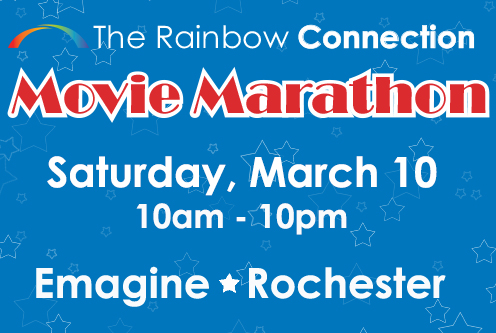 Escape the cold with a day at the movies and help grant wishes for Michigan children!
Each ticket includes 12 hours of movie marathon fun PLUS all you can eat pop and popcorn!
All movies will be box office hits. Click here for the full schedule!
Black Panther
Lady Bird
Red Sparrow
3 Billboards Outside Ebbing, Missouri
Gringo
Get Out
Every Day
A Wrinkle in Time
Jumanji 2
The Greatest Showman
Meal Deals
Want some food to pair with your pop and popcorn? Meal Deals are available!
1 Meal for $10 or 3 Meals for $25!
Breakfast is the most important meal of the day! Start your day off right with a continental breakfast provided by Tim Hortons.
Grab a delicious sub from Penn Station to eat during your afternoon movies.
Don't want popcorn for dinner? Try a pulled pork sandwich from Freddy's BBQ! Containers and napkins will be available to help you eat this with ease.
Be sure to treat yourself to savory cookies from Cookies by Design.
ALL food can be brought into the theatre. Emagine's trays attach to their chairs to hold your food for a convenient eating experience.
+
How does this work?
We have two private theatres reserved for the day, and 11 movies to choose from! These movies are a mix of new releases, box office hits, and Oscar nominated films! You can switch between the two theatres.  A schedule will be released before the event to help you plan your day.
+
How much are tickets and what is included?
Tickets are $60.00. Receive a $10/ticket discount if you use our coupon code, RainbowMarathon18! Tickets include 12 hours of movies, and all you can eat pop and popcorn.
+
What is the movie and meal schedule?
+
Do we need to be there the whole day?
No! You can come and go as you please as long as you check in before your first movie. Check in will be available from 9AM-10AM in the lobby. After 10AM, Check-In will be moved to the information booth, and will be open for the remainder of the event.
+
How can we buy tickets?
You can buy tickets online by clicking
here,
or over the phone at 248-601-9474!
+
Is Late Check In Available?
Yes! There will be an information/check in booth open during the entire event.
+
Can we buy tickets the day of the event?
You can buy tickets the day of the event, unless they are sold out. Tickets purchased on the day of the event will be full priced ($60). The coupon code will not be valid. You can purchase tickets online or at the event. Meal Deals will also be available for purchase at the event.
Have any more questions? Email Jessica at jprucknic@rainbowconnection.org or call our office at 248-601-9474!
Presented by

And Meal Deal Sponsors