Eastern Oil partners with TRC to make dreams come true!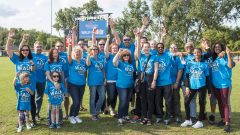 Michael Zotos, Marketing Manager for Eastern Oil, reflects on volunteering with The Rainbow Connection.
I greatly enjoy volunteering my time helping the Rainbow Connection. When asked to work with their marketing team, I was honored to be able to help this dedicated group accomplish one of their organizational goals and materialize a vision. Rainbow Connection and Eastern Oil Company share a special relationship that spans many years, and many wishes along the way.
As you may know, Rainbow Connection's mission is to make dreams come true for Michigan children with life threatening medical conditions. We wanted to make sure that mission was amplified and in order to accomplish that goal we needed a digital makeover – it was time to overhaul the rainbowconnection.org website!
We determined that a clean and fresh presentation, that was mobile-friendly would allow for all users to engage, learn more about the Mission, and connect.
It's difficult to find the words that accurately, and best describe what it feels like to work on a larger than life project. The Rainbow Connection Team is always looking for more help! If you're interested in learning about how you can make a difference – take action by clicking here!
On behalf of Eastern Oil Company, we thank the entire Rainbow Connection family and look forward to seeing everyone at the upcoming Walk for Kids event scheduled on September 23rd!