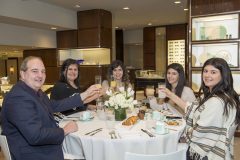 Rob Bava raised his bidder paddle high as a surprise to his wife when the "Breakfast at Tiffany's" package hit the auction block at the 2018 Dream Makers Ball. This phenomenal item, donated by the Somerset Collection Tiffany and Company and Lavdas Limousine, included a private breakfast and shopping experience for five lucky individuals.
"I knew right away I wanted it to be a gift to my wife and three daughters," shares Rob just before he raised a glass toasting his beautiful family.
Thanks to Lavdas, the Bava family arrived to the event in a limousine.  Breakfast was served in the center of the Tiffany & Company store. Plum Market catered the breakfast and served the same menu as the Blue Box Café in New York. The guests even got to select a piece of jewelry to wear while they dined!
Following breakfast, Rob and his family had a private shopping experience. The ladies tried on every jewel that caught their eye and spent the morning draped in diamonds! As they were preparing to leave, the Tiffany staff surprised the family with individual gifts from the new Tiffany & Company china line.
Thanks to Tiffany and Company, Plum Market and Lavdas Limousine the Bava family created memories they will cherish for a lifetime.
Don't miss out on amazing items like this!  Tickets are on sale NOW for the 2019 Dream Makers Ball, May 11 at MGM Grand Detroit.